Matt Par – Make Money On YouTube WITHOUT Making Videos
Matt Par – Make Money On YouTube WITHOUT Making Videos
Original Price: $197
You Just Pay: $29.95 (One Time – 90% Off)
Author:_Matt Par
Sale Page:_https://www.makemoneymatt.com/p/make-money-on-youtube
Imagine making an extra $1,000, $2,000, or even $10,000 a month by uploading YouTube videos you didn't even make.
With this simple and proven system, I teach you how I made $110,704 in profit over the last 365 days, but I really only started utilizing the tactics and strategies taught in this course in December of last year. This year, I made an amazing $19,855.52 in ONE MONTH, November 2018.
I have two YouTube channels I do this with, and each one brings in about $200-300 a day and have made as much as $1,000 in a SINGLE DAY.
In this course, I show you the entire process of finding videos, optimizing them, and 2 secrets that can multiply your revenue by up to 10X. Also, I share the top niches to do this in and how you can start taking advantage of YouTube today!
Here is a screenshot of my earnings on a SINGLE CHANNEL for the past 365 days. The money was and continues to be deposited into my bank account consistently every month.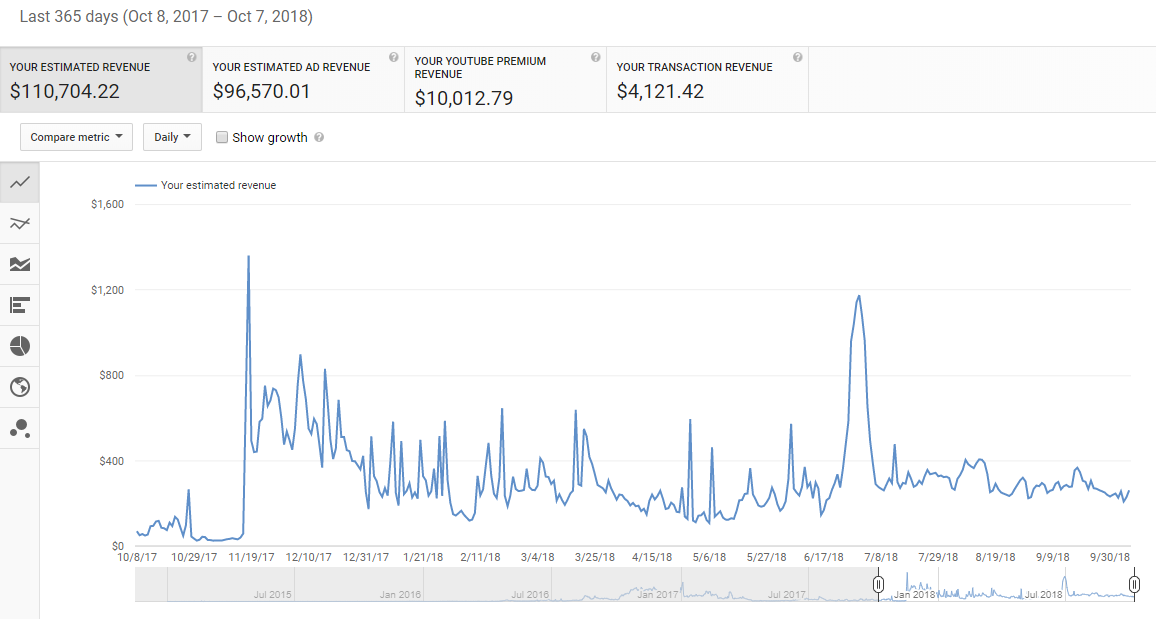 Here is a screenshot of the deposits into my bank account over the last 3 months:

Here's a screenshot of the analytics of a NEW CHANNEL that I just made THIS YEAR. I just want to show you that it IS POSSIBLE to make money using this method: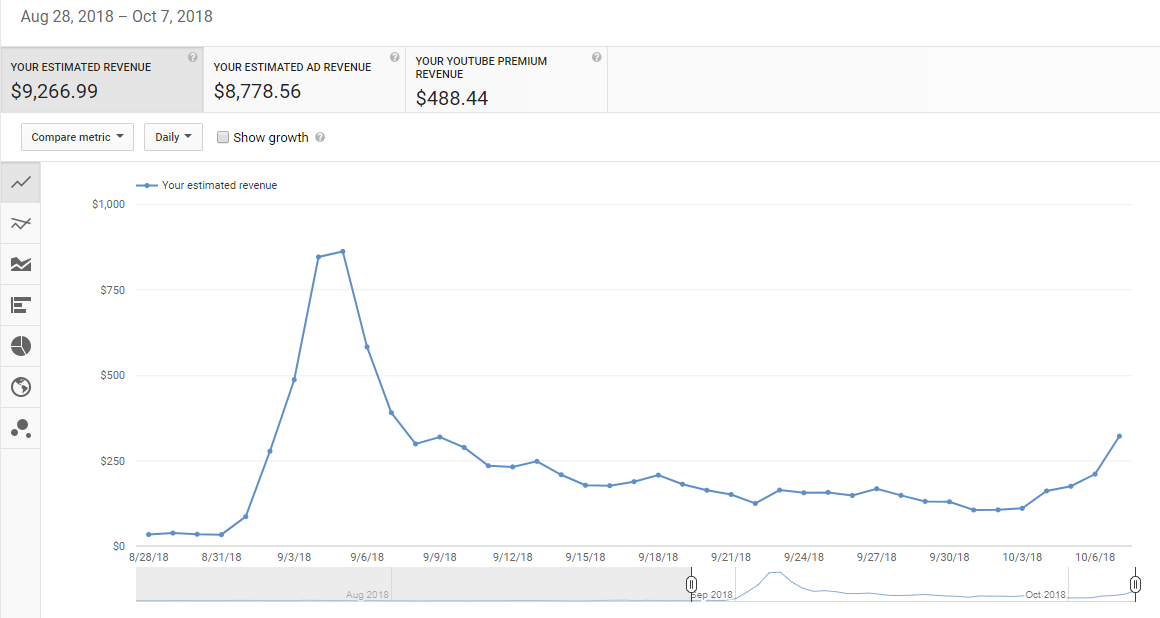 In this course, I show you the EXACT secrets and blueprint I currently use to make over $100,000 a year with YouTube. I reveal the vital tips and tricks to make this kind of income on YouTube WITHOUT EVEN MAKING VIDEOS. A camera and microphone aren't required!
I'll be your guide through this whole process and show you some of the best niches, secret tricks to increase watch time, and a technique used by almost nobody to 10X your YouTube earnings.
What are the requirements?
All you need is a computer, internet connection, and a bank account.
What am I going to get from this course?
Generate lots of money from YouTube without even having to make your own videos.
What is the target audience?
Anyone looking to generate another stream of income.
Anyone who wants freedom from a 9 to 5 job and be able to work when you want where you want.
Anyone looking to make money on YouTube without having to show their face.
100% Risk Free Money Back Guarantee!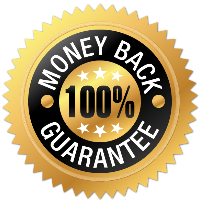 7-Day money back guarantee. Valid only if you have viewed less than 25% of the course. It does not matter if you click "complete" or not, we have a chart that shows how much of each lecture you have watched.

Your Instructor
Hey, Matt here. I've created multiple YouTube channels that bring in six figure incomes and gotten millions of subscribers and hundreds of millions of views. I have helped multiple people do the same thing and my goal is to assist as many people as possible in quitting their 9 to 5 job and live life on their own terms.
Class Curriculum
Introduction
Start

Introduction (0:52)

Start

YouTube Business Model (5:03)

Start

Case Studies (5:18)
Creating Your YouTube Channel
Start

Creating a Google Account (0:50)

Start

Making a YouTube Channel (1:10)
Optimizing Your YouTube Channel
Start

Optimizing Your Channel Layout (1:40)

Start

Verifying Your YouTube Channel (1:10)

Start

How to Set Upload Defaults (0:50)

Start

Adding a Watermark to All Your Videos (0:58)

Start

How to Add Channel Keywords (0:55)

Start

Adding Channel Description and Links (0:58)